Also London joins in applauding The Great Beauty
By Cristina Murroni in London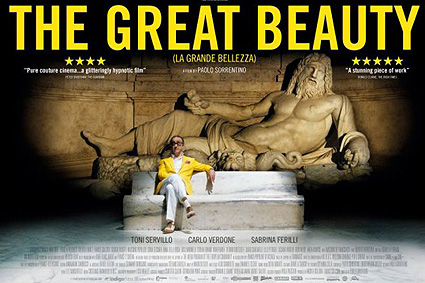 Dopo l'articolo la traduzione
La Grande Bellezza premiered in London in late September 2013, just as the London Film Festival was about to flock the West End with cinema aficionados. It was immediately tipped to be an unmissable one, deserving to be seen in "full cinema glory".
The Time Out, the Telegraph and the Evening Standard loved it. Xan Brooks of The Guardian went even further: "The Great Beauty is my film of the year. Try as I might, I can't recall another recent picture that is so rich, so full, or so elegantly staged. ".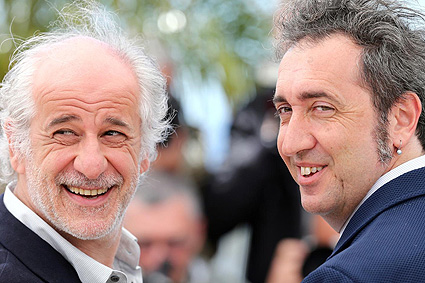 The movie ranked second in the Critics' Top Ten movies of 2013, upstaging Gravity (joint third, with Behind the Candelabra) and following The Act of Killing. Critics loved the look and feel of the movie: "it is pure couture cinema" "a brilliantly executed, glitteringly hypnotic film". Paolo Sorrentino is widely quoted to be the direct successor to Rossellini, Antonioni and Fellini. The spectacular performance by Toni Servillo is also duly noted: "time to get his best actor award here". And the audience? Britain is a notoriously difficult market for "continental" cinema and Euro movies hardly ever get nationwide cinema release. They are mostly available on subscription services like Amazon's Lovefilm. La Grande Bellezza is no exception: just released on DVD, it is currently showing in just two cinemas in the West End. But against all odds, this "Italian tragic-comedy" was voted fifth best movie of 2013 by the readers of The Guardian. A delight for viewers and critics alike – let's hope that accolades keep on rolling for this superb take on the Eternal City.
---
Anche a Londra applausi per "La grande bellezza"
Dalla nostra corrispondente Cristina Murroni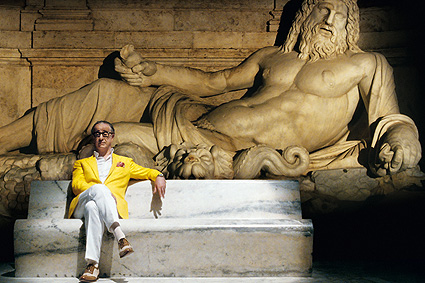 La Grande Bellezza è uscito in prima visione a Londra alla fine del Settembre 2013, proprio mentre gli affezionati di cinema iniziavano in gran numero ad affluire al London Film Festival. È stato immediatamente indicato come un film imperdibile, da vedere "in full cinema glory". È stato molto apprezzato dale riviste "The Time Out", "The Telegraph" e "The Evening Standard".  Xan Brooks del "The Guardian" è andato anche oltre: "La Grande Bellezza è il film dell'anno. Per quanto mi riguarda, non mi ricordo altro film recente che sia così ricco, pieno e così elegantemente coreografato". Il film è arrivato secondo nella graduatoria Critics Top Ten del 2013, superando "Gravity" (al terzo posto con "Behind the Candelabra") e dopo "The Act Of Killing". I critici dicono di amare la visione e l'atmosfera del film: "È couture cinema puro". "Esecuzione brillante, un film scintillante e ipnotico".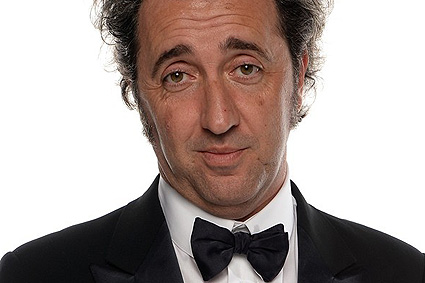 Paolo Sorrentino é stato proclamato l'erede di Rossellini, Antonioni e Fellini. Da non mancare la fantastica interpretazione di Toni Servillo: "Sarebbe ora che ricevesse il premio per migliore attore". E il pubblico? L'Inghilterra è famosa perché il suo mercato è difficile per il cinema "continentale", e gli "Euro-films" difficilmente  hanno una distribuzione  su scala nazionale. Sono di solito disponibili su Amazon's Love film. "La Grande Bellezza" non fa eccezione: appena uscito il DVD, si può vedere in solo due teatri nel centro di Londra. Tuttavia, contro  ogni previsione "questa commedia tragica Italiana" è stata votata come il quinto più bel film del 2013 dai lettori di "The Guardian". Un piacere per il pubblico ed i critici e speriamo che i complimenti si moltiplichino per questo superbo quadro della Città Eterna.
22 gennaio 2014