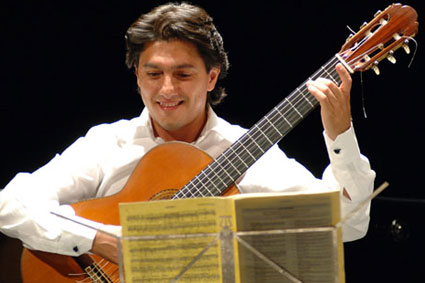 Cristian Marcia, born in Quartu Sant'Elena (Cagliari - Italy), studied at an early age in National Conservatory of Cagliari G. Pierluigi da Palestrina. Obtained congratulations from the jury when graduated. Graduated of national and International contest, he won the first absolute price contest "Selextra" of Milan. Got a scolarship to go study at the pestigious "Ecole Normale de Musique A. Cortot"" of Paris. Inthe same time he passed the musicology and etnomusicology bachelor's detgree in the University of Paris.
Cristian Marcia is a much sought after soloist and chamber music. Collaborated with of the Soloist of the "Opera Bastille" in Paris, with Gerard Poulet, Dong Suk Kang, Roland Daugareil, Federico agostini, Jean Ferrandis, Alain Meunier, Pilippe Muller, Michel Michalakakos, th International Ensemble of Paris, the Soloist of Rome.
Cristian Marcia performed in several national and international Festival, in the most famous concert's halls of Paris, Aix-en-Provence, Rome, Turin, Milan, New York. He recorded for television and radio RAI and Radio France many times.
Founder and Artistic Director of the "Internatoinal Academy and the Music Festival of Cagliari. Today he is teaching at the Conservatory of Music "F. Chopin" of Paris.